This
Moment
Is
The
Only
Moment
In
Which
Your
Dreams
can
Become
your
Reality.
Breathe.
Envision. Plan. Cut and paste images on a vision board, scribble wild notes
across lined journal pages. Do so not for 2014, but for the way it feels in this
moment. Do so because in this moment, you are living life in the way you want to live it.
Cry. Rip something. Break a dish. Declutter the entire house. Scream until
you lose your voice. Do so not because you are trying to release anything for 2014.
Do so because you are feeling in this moment, to the honest depths, what it means to be
human and alive.
Paint. Dance. Write 10,000 words of your story. Sing (off key). Do so not
because you are creating a video or product or book or class to sell for next year. Do
so for the experience of painting, dancing, writing, and singing off key.
Meditate. Pause. Walk barefoot in nature. Breathe with full mindful
awareness. Do so not because you want more peace in the new year. Do these
things because in so doing, you find the space and stillness that allows you to
experience life in this moment. Because
This
Moment
Is
The
Only
Moment
In
Which
Your
Dreams
Can
Become
Your
Reality.
Breathe.
Happy 2014.
Happy New Moment.
namaste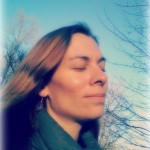 Lisa Renee Wilson
 is an Awareness Artist and a mostly-mindful mom.  Through art+words+space, she encourages others into the experience of living a creative and contemplative life in the midst of mundane moments.
Learn more: